Have clients on Medicare who you need to help plan for long term care expenses?
Download our guide
Enter your email address to receive our guide on factoring Medicare Parts A and B coverage into your long term care planning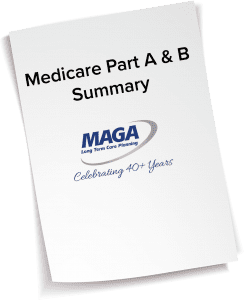 Do you need to know what Medicare does and doesn't cover so you can help your client plan for long term care expenses?
We've consolidated Medicare's rules into a 2 page 2019 Medicare Information Summary. It details coverage levels for Medicare Part A and Part B. We tell you what the benefit is, what Medicare pays, and what your client will pay.
We focus on Medicare services most related to long term care planning:
Part A – hospitalization, skilled nursing facility care, and hospice care
Part B – medical expenses, clinical lab services, home health care, outpatient hospital treatment, and blood work